Olde Rabbit's Foot Release
Friday, November 10, 2017
4:00 pm - 2:00 am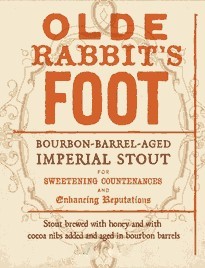 North Carolina's original collaboration beer has been resurrected after a 5-year hiatus!
Olde Rabbit's Foot will go on tap at our PUB and TASTING ROOM  Friday November 10th, and will be released in bottles Saturday, November 11th simultaneously at Foothills (both locations), Olde Hickory Brewery locations and The Duck-Rabbit Craft Brewery. There will be no bottle limit on purchases.
The beer is a blend of imperial stouts from Olde Hickory, Duck-Rabbit and Foothills (yes, we used Sexual Chocolate for our part) and has been aging in Woodford Reserve bourbon barrels.
Read more about Olde Rabbit's Foot in our blog.