Brewery Tour-CANCELED
Saturday, May 2, 2020
3:00 pm - 4:00 pm
at Foothills Tasting Room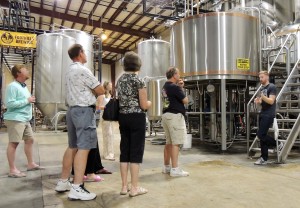 Barley. Hops. Yeast. Water.
Come on a brewery tour and allow us to drop some knowledge on how these four simple ingredients get transformed into delicious craft beer. Your tour will take you through our entire beer-making process, from milling the grain to bottling and kegging to, most importantly, drinking.
Brewery tours are FREE and first-come first-serve – however, be sure and check our social media pages or call the tasting room, as we occasionally have to close tours for brewery construction or equipment installation.
Tours are held at our main brewing facility at 3800 Kimwell Drive in Winston-Salem (near Clemmons, just off S. Stratford Road)
Saturdays: 3:00 PM
Sundays: 3:00 PM
Click here to learn more about our BEER PROCESS.
---
Join us at the Tasting Room before or after your tour.
Have lunch or dinner from one of our food trucks, relax inside, or on the cushioned patio seating and enjoy a cold pint from one of our 28 taps.