Dead and Berried - Spring Halloween
Friday, April 13, 2018
4:00 pm - 12:00 am
at Foothills Brewpub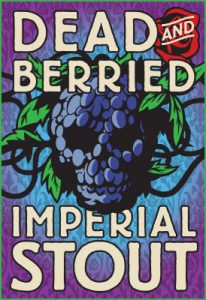 Join us to celebrate 'Spring Halloween' and the draft release of Dead & Berried Blackberry Imperial Stout! We'll have:
– Food Specials
– Drink Specials: Camp Crystal Lake Margarita(strawberry margarita with honey, with blood red food coloring around the rim); Slaughterhouse Shooter (Baileys, vodka, grenadine); Mother's Martini (Blavado Black Vodka with cherry juice)
– Bottle Share party
– Live Music 9p-12a from Grateful Dead tribute band Hennessy Jed
– Silent scary movies on the big screen
– Costume contest! Dust off your finest garb from Halloween – winner gets the first EVER bottle of Dead & Berried, plus a growler full of any other beer on tap! Winner announced 10pm.