Bourbon Barrel Aged Sexual Chocolate
A cocoa infused Imperial Stout that's been carefully aged in bourbon barrels, then infused with house-roasted Peruvian Chanchamayo coffee. Opaque black in color with a dark brown head. Big chocolate aroma with notes of espresso, blackstrap molasses, dark sweet toffee and dark fruit. Barrel aging adds heady notes of vanilla and bourbon.
2020: aged in Weller's and Buffalo Trace bourbon barrels
Read about the history of Sexual Chocolate here.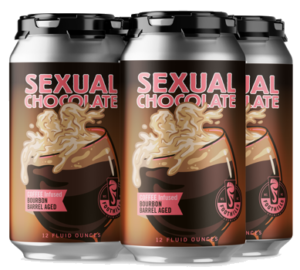 available exclusively
in 12 oz. can 4-packs
Alcohol by Volume (ABV): 9.6%
AVAILABILITY
August, September